Holy Smoke, Inc.
Chimney and Fireplace Specialists.
Our goal is to bring warmth and security to every home
Serving Siskiyou County Since 1979!
Welcome to Holy Smoke, Inc. – Siskiyou & Shasta's Trusted Chimney & Fireplace Pros for 40 Years & Counting
You love your home and want to make sure it stays warm and secure – well, we're here to help! Since 1979, Holy Smoke, Inc. has been providing reliable, clean, professional chimney and fireplace services, gutter cleaning, and dryer vent services to clients in Montague, Yreka, Mount Shasta, McCloud, and all throughout Siskiyou and Shasta Counties.
We're a family-owned company with a focus on quality, in both the services we offer and the products we provide. But we also care about the quality of our team, which is why we invest in training and industry memberships that will only make us better.
What makes our team special?
We're Factory-Trained Technicians
The goal of every one of us is to bring warmth and security to every home we enter
Learn more About Us, our history, and what makes our team special right here on our website.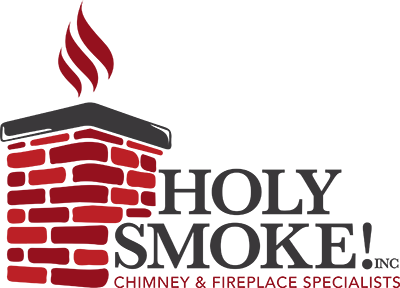 How Can We Help?
Enough about us. How can we help you?
Well, we specialize in an array of services, including:
We try to do everything we can to keep our clients' chimneys and fireplaces operating efficiently and your homes secure and looking good. That's what we're here for!
You'll also find a Stove Shop here on our website that makes it easy to find a new stove, insert, fireplace, log set, hearth pad, or fireplace product. Each brand and product is already carefully vetted by our team of experts for quality, durability, beauty, and efficiency.
What brands will you find? Lopi, Fireplace Xtrordinair, Kuma, HearthStone, Morsø, True North, Hearth Classics, Greysen Woods, and Rutland. With these products and brands, you don't have to choose between one or the other or settle for anything less than perfect. And with the exception of Morsø (which is Danish), all of these brands are based right here in America – so you can feel good about investing in a new hearth appliance from any one of them.
To learn more about the brands and products we carry, just head on over to Our Stove Shop.
What do our customers have to say?
I have to say Sean runs a great company. He replaced a baffle on my insert a couple of months back and more recently, over the phone, walked me through a process to figure why the fan had stopped. Today he dropped off the new rheostat. I put everything back together and it's working perfectly.
Can't say enough good things about Holy Smoke. I highly recommend them.
-Richard D
Wonderful professional service and product. We had heard many concerns going from an older stove to new one would reduce our heat – but NO! This new stove and the efficiency all add up to a warmer house and less smoke in the sky.
The tutorial we got after installation really helped us know what to do to enjoy the stove to its max.
Thank You!
– Marian M
Our Service Area
For more than 40 years, we've proudly provided service throughout Siskiyou and Shasta Counties. Whether you're in Mount Shasta, Dunsmuir, Yreka, Fort Jones, Weed, Montague, Happy Camp, Grenada, Etna, McCloud, or somewhere in between, we're here to help when you need us.
Visit Our Service Area to see all of the zip codes, cities, towns, and areas we serve.
Wherever You Are in Siskiyou or Shasta, Friendly, Professional, Clean Service Is Just a Phone Call Away
You deserve the best from your hearth appliance, your home, and the company you rely on to take care of it. So, trust the company that's been providing expert service to the area for more than 40 years.
To request an appointment with one of our experienced and certified pros and get the quality service you deserve, simply call 530-285-3841 or reach out to us here on our website. Scheduling is easy, so call now!
You can always count on Holy Smoke for all your professional chimney and fireplace services.